/
/
/
What is the Difference between CAD, CAE and CAM?
What is the Difference between CAD, CAE and CAM?
While technologies such as computer-aided design (CAD) benefit considerably from modern enhancements to software and engineering, the history of these developments spans more than 60 years. In 1957, Dr. Patrick Hanratty created the first numerical control system that would eventually become CAD software.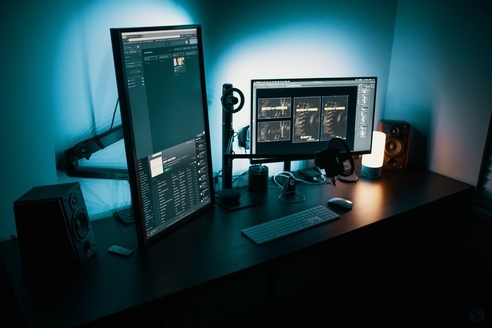 Both CAD and computer-aided manufacturing (CAM) have become interlinked as the technologies evolved over the last several decades. Because their histories are intertwined and most engineers will need to be familiar with their related tools and techniques, we examined CAD, CAM and computer-aided engineering (CAE) more closely to answer questions such as:
What is CAD, CAM and CAE?
How do engineers use CAD and CAM software?
What are the highest demand engineering skills?
Michigan State University's online engineering degree programs offer hands-on experience with CAD and CAE software. For example, students taking ME 465 will learn techniques for mechanical design optimization and use CAE tools to complete their course assignments.
---
What is CAD?
Engineers and draftsmen use computer-aided design software to create illustrations or 3D models. While most engineers should be proficient with CAD, the amount of time they spend using it may depend on their specific role and level of experience.
For example, in some environments, designers may be responsible for creating the initial design in a CAD program, while analysis and release engineers will review and analyze it to make sure there are no errors.
---
Best CAD Software for Engineers
Which CAD software is used can vary based on an engineer's specialty, the industry they work in or specific employer requirements. There are a variety of highly specialized tools, with some software designed for specific industries. A few of the popular CAD tools for professional engineers include:
AutoCAD
CATIA
Fusion 360
NX
SolidWorks
A 2019 report from market research firm Grand View Research also highlights the growing trend of utilizing cloud-based CAD software, or outsourcing certain design projects. However, the company expects continued demand for 3D CAD software due to growing adoption of 3D printing. If outsourcing portions of design becomes more commonplace, engineers will likely be more focused on providing conceptual design ideas and interfacing with vendors to review final designs.
---
What is CAE?
Computer-aided engineering refers to the use of software to simulate the effects of different conditions on the design of a product or structure using simulated loads and constraints. CAE tools are often used to analyze and optimize the designs created within CAD software. Major categories of CAE tools include finite element analysis (FEA), computational fluid dynamics (CFD) and multi-disciplinary design optimization (MDO). These tools are used to perform design iterations using virtual prototypes (sometimes called "digital twins") prior to building physical prototypes. This saves companies significant time and money in product development while often yielding higher quality designs that meet multi-disciplinary and multi-functional requirements.
---
CAE Software Leaders
There are dozens of CAE software tools used within the field of engineering. A few of the leaders include:
Abaqus
Ansys
CFX
Comsol
Excel
Fluent
HEEDS
HyperWorks
LS-DYNA
Matlab
Nastran
Simulink
STAR-CCM+
The best CAE product choice will depend to some extent on the skills you want to build and your specific career path. For example, niche products like OpenFOAM are open source, which can provide a great deal of flexibility. However, many users feel the software could be improved because it relies solely on a command line and has no graphical user interface (GUI).
---
What is CAM?
Computer-aided Manufacturing (CAM) is commonly defined as the use of software to automate manufacturing processes. CAM software is able to translate CAD designs into instructions for machines, increasing the efficiency of producing parts and optimizing the amount of materials used.
---
Best CAM Software
Because CAM is so intertwined with CAD, some software companies produce both types of applications. SolidWorks, for example, offers a full-suite of tools for CAD, CAM and other engineering processes. Similarly, companies like AutoDesk offer combined CAD and CAM tools. Some of the leaders in CAM software include: SolidWorks CAM, Fusion 360 and NX, which combines elements of CAD, CAE, and CAM.
---
CAD vs. CAM vs. CAE: How Familiarity Helps Your Career
Most engineers will benefit from exposure to CAD and CAE software tools, but they should also be familiar with CAM. Knowledge of how CAD and CAM software interact can help to make improvements in the design and analysis phase of planning products and structures.
Engineers whose work is focused on seeing the big picture, such as optimizing systems or managing engineering teams, can especially benefit from building familiarity across all three types of software.
---
About Michigan State University's Online Master of Science in Mechanical Engineering
The 100% online Master of Science degree in Mechanical Engineering from Michigan State University leverages extensive mechanical engineering research as well as a connection to industrial giants to help mechanical engineers position themselves for success—not only in the classroom, but in transforming the disciplines they work in.
The program offers engineers an opportunity to tailor their educations, with two in-demand tracks in thermal fluids science and in mechanics, dynamics and manufacturing. Online students also benefit from the full support of an R1 research institution and faculty advisement, ensuring their path of study will yield the highest benefit for their individual career goals.
Request Brochure
To learn more about Michigan State University's online master's programs in engineering and download a free brochure, fill out the fields below to request information. You can also call us toll-free at (888) 351-8360.
*
All Fields are Required. Your Privacy is Protected.
---