/
/
/
What is Transportation Engineering?
What is Transportation Engineering?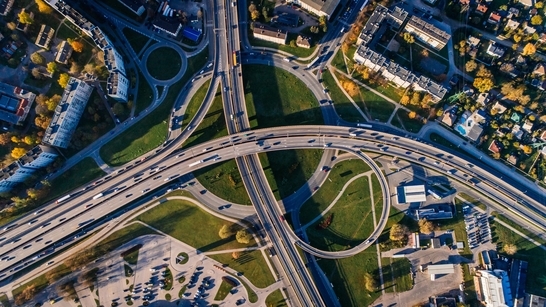 The transportation sector has undergone a sea change over the past few years, as more cities pilot smart city initiatives with intelligent transportation systems (ITS). With ITS technologies, cities can gather and analyze data to design safer roads, cleaner vehicles, and more efficient travel. New York City, for example, has installed cameras and sensors at over 10,000 traffic intersections to collect data and enact changes that improve safety and traffic flow.
Professionals in transportation engineering careers play a pivotal role in the implementation of transportation advancements by combining technical knowledge and creative thinking skills.
For example, Assistant Professor Mehrnaz Ghamami of Michigan State University's Department of Civil and Environmental Engineering developed a comprehensive framework for analyzing issues related to electric vehicles. The results and recommendations from the project are now being used to develop a statewide network of electric vehicle charging stations, which will change the outlook of sustainable transportation in Michigan for years to come.
Government agencies, industry companies, and engineering firms all need insights from professionals that can guide the development of transportation projects. A master's in civil engineering with a focus in transportation engineering will prepare you to design and preserve the next generation of transportation infrastructure.
---
What Is Transportation Engineering?
Transportation engineering is a branch of civil engineering that involves the planning, design, operation, and maintenance of transportation systems to help build smart, safe, and livable communities.
Any system that moves people and goods from one place to another falls under the scope of transportation engineering, which includes:
Highways and roadways
Railways
Oil pipelines
Public transport systems
Traffic control systems
Automated transport systems
Space transport systems
---
What Does a Transportation Engineer Do?
In planning projects, transportation engineers gather relevant data on the population in the surrounding area, travel patterns, socioeconomic characteristics, laws and ordinances, and financial resources. They consolidate this information and use decision-support tools to develop, design, and deliver various types of transportation projects in consideration of various performance measures (e.g., operations, safety, environmental impacts).
While their professional duties vary based on job level and specialization, some of the most common responsibilities of a transportation engineer are:
Draft design and construction plans for new transportation systems
Investigate traffic problems and identify solutions
Analyze engineering data and draw conclusions and recommendations
Estimate project budgets for labor, materials, and equipment
Discuss plans with contractors, local organizations, and the public
Inspect completed projects to ensure safety and compliance to standards
Model transportation systems to assess impact
Oversee survey, staking, and layout of projects
Present reports and proposals to stakeholders
---
What Skills Do Transportation Engineers Need?
To pursue transportation engineering as a career, it's crucial to develop both technical skills and interpersonal skills. According to the U.S. Department of Labor, some of the most common skills requested in transportation engineering positions are:
Technical knowledge in engineering and technology
Project management skills
Knowledge of design techniques and principles
Ability to use analytical software
Proficiency in computer-aided design software
Problem-solving skills
Written and oral communication skills
One option for building these skills while gaining experience on industry-standard software is to look for a master's with a transportation engineering specialization. In Michigan State University's M.S. in Civil Engineering, for instance, students learn to solve complicated infrastructure problems while working with industry-adopted programs such as computer aided design (CAD) software, Highway Capacity Software (HCS), traffic simulation software (e.g., Synchro/SimTraffic, VISSIM), statistical analysis software, and more.
---
What Jobs Are Available in the Field of Transportation Engineering?
There are many career paths you can pursue in the field of transportation engineering, including jobs in the public, private, and nonprofit sectors. The most common employers of transportation engineers are transportation corporations, construction companies, state and local governments, and engineering firms.
Transportation engineers typically spend their work days in an office environment, but some jobs require travel outside of the office for assessment and coordination of construction projects.
Based on education and experience, transportation engineers may choose to further specialize as highway engineers, traffic engineers, or safety engineers. Highway engineers, for example, are responsible for researching, planning, and constructing roads, bridges, and tunnels.
Regardless of potential specializations, transportation engineers who want to take on higher-level responsibilities such as independent decision-making and project oversight should consider graduate-level education and possibly licensure (see box). Nearly half of all senior engineer job postings in the transportation sector required an advanced degree, according to Burning Glass.
To advance your career prospects and earning potential as a transportation engineer, you can seek licensure as a professional engineer (PE). With a PE license, engineers become qualified to prepare, sign and seal, and submit engineering plans for clients. On average, transportation engineers with a PE license earn about $5,000 more per year than their counterparts without a license.
To qualify as a PE, you must:
Graduate with a four-year degree from an ABET-accredited engineering program
Pass the Fundamentals of Engineering (FE) exam to become an engineer intern
Gain requisite amount of professional experience under a PE's supervision
The U.S. Bureau of Labor Statistics reports that in the next few years, the work of transportation engineers will primarily involve repairing and rebuilding deteriorating transportation infrastructure, such as bridges, roads, and airports. Aside from rebuilding existing infrastructure, transportation engineers will also play a key role in designing innovative, data-driven transportation systems that optimize sustainability, safety, and quality of life.
---
About Michigan State University's Online M.S. in Civil Engineering
Students in Michigan State University's online Master of Science in Civil Engineering develop the skills to design and maintain the next generation of infrastructure. Designed to fit into the schedules of busy professionals, this 100% online master's program explores data-driven strategies to design pavements and transportation systems for optimal safety, durability and sustainability.
As a top-tier research university with its own vast transportation system on campus, MSU offers students exceptional access to industry resources and real-world data. Our faculty features top thinkers in transportation and pavement engineering who teach advanced quantitative methods and industry-standard software tools. Master's students create customized program plans so they can graduate with the skills they need to solve real problems and excel in their careers.
Request Brochure
To learn more about Michigan State University's online master's programs in engineering and download a free brochure, fill out the fields below to request information. You can also call us toll-free at (888) 351-8360.
*
All Fields are Required. Your Privacy is Protected.
---