/
/
/
Career Options with a Master's Degree in Mechanical Engineering
Career Options with a Master's Degree in Mechanical Engineering
When a drill on the Mars Curiosity rover broke, it was up to mechanical engineer Megan Richardson and her team at NASA's Jet Propulsion Lab to fix it from 33.9 million miles away. It can take nearly an hour for the rover to receive Richardson's commands and respond back, so in order to reduce errors and improve efficiency, the messages needed to be precise.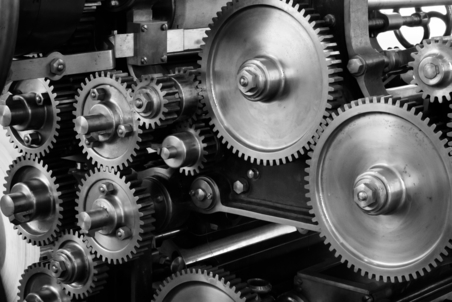 "We actually have a near exact copy of the Curiosity rover here at Jet Propulsion lab," Richardson said in her interview with 90.7 WMFE, Orlando's NPR affiliate. "We have a team of engineers and scientists that are looking into all of the challenges and are currently trying to drill holes with the same exact setup that we have up there on Mars."
Like Richardson and her team, those with careers in mechanical engineering are natural problem solvers who seek to build more precise and effective mechanical systems in their local communities, around the world and across the Milky Way.
---
Mechanical Engineering Fields
Mechanical engineers face challenges and design solutions that address the fundamental nature of materials and physics, and their success continues to drive advancement in areas such as:
Advanced manufacturing
Autonomous vehicles
Biomechanics
Clean energy
Dynamics and control
Fluid mechanics
Robotics
With increased technology, the work of mechanical engineers has a globalized effect on the way our world continues to develop. Those with the know-how to apply modern technologies to an array of industries and utilize tools to stay ahead of the curve will have better job prospects, according to the Bureau of Labor Statistics.
As the job requirements of a mechanical engineer continue to expand, so does the need for the advanced skill set obtained through a Master's program in Mechanical Engineering. In this article, we explore options for careers with a mechanical engineering degree including salary information that considers location and specialty.
---
Mechanical Engineering Careers
Professionals with careers in mechanical engineering can pursue a wide range of opportunities to exercise and grow both their technical talent and leadership skills.
Mechanical engineering professionals find strong upward mobility and above average work-life balance in their jobs, according to U.S. News & World Report. The publisher also ranks mechanical engineering as:
#3 in Best Engineering Jobs
Top 15 Best STEM Jobs
Top 50 Best 100 Jobs
In order to be successful in this high-ranking and prestigious job, mechanical engineers can develop practical skills, proficiency with advanced mathematics as well as knowledge of engineering theory to achieve career advancement.
In his advice to those preparing for careers in mechanical engineering, former President of the American Society of Mechanical Engineers (ASME) J. Robert Sims encourages job seekers to "convince an employer that you can help their business to be successful."
A master's degree in mechanical engineering can help mechanical engineers to do just that. These degree seekers learn multidisciplinary skills to tackle issues ranging from interactions between materials, behavior of materials under drastically different conditions as well as the design and optimization of highly complex, interconnected systems.
This blend of industry depth and breadth of key topics provides graduate-level students with tools they can apply directly to their careers in order to be highly successful, whether they go on to pursue academic research, advance as industry practitioners, or pursue industrial research and development.
---
Careers with a Mechanical Engineering Degree
Pursuing a master's degree in mechanical engineering allows students to gain advanced skills in topics such as linear elasticity, cryogenic process engineering, and computer aided optimal design. Some programs offer specialized tracks specific to areas like thermal fluids science and mechanics, dynamics and manufacturing.
The problem-solving and technical abilities of master's-level mechanical engineering graduates prepares them for success in industries such as:
Aerospace
Architecture
Automotive
Clean Energy
Design and automation
Fluid and solid mechanics
Electronics
Mobility
Nanotechnology
Oil and gas
Remanufacturing
Successful mechanical engineers are experts at bringing scientific and mathematical theories to practice, especially when they've studied with world-renowned researchers who are eager to share their knowledge and experience with their students.
Not only do mechanical engineering masters' students gain more advanced fundamental and leadership skills, but their decision to obtain this degree plays a role in their salary potential. In fact, the average master's in mechanical engineering salary is approximately 9% higher than those who don't hold a graduate-level degree.
---
Mechanical Engineering Salary Information
In addition to being a rewarding and flexible career, mechanical engineers earn a highly competitive salary, even compared to other fields of engineering, making an average of $91,010 per year, according to the Bureau of Labor Statistics.
The range of mechanical engineering salaries is dependent on a number of factors including specific job functionality and location. The BLS reports that those who work in scientific research and development services, for example, make an average of nearly $100K annually.
As discussed above, a mechanical engineering salary can be increased by obtaining a master's degree in mechanical engineering, but, furthermore, the university chosen to earn the degree and the location in which someone works can make a difference.
Industry blog Interesting Engineering recently released a report that gathers the average salaries of mechanical engineers by state. While the average salary for a mechanical engineer in Michigan is $91,100, engineering alumni from Michigan State University earn 20% more than that at an average of $109,966, according to PayScale.
A mechanical engineer's earning potential also varies based on their job title. Here's a look at some popular job titles and their average salaries:
| Mechanical Engineering Job Title | Median Salary |
| --- | --- |
| Project Engineer | $67,070 |
| Mechanical Engineer | $69,004 |
| Project Manager, Engineering | $89,130 |
| Senior Manufacturing Engineer | $89,681 |
| Senior Mechanical Engineer | $94,770 |
| Engineering Group Manager | $112,256 |
Source: PayScale
---
About Michigan State University's Online Master of Science in Mechanical Engineering
The 100% online Master of Science degree in Mechanical Engineering from Michigan State University leverages extensive mechanical engineering research as well as a connection to industrial giants to help mechanical engineers position themselves for success—not only in the classroom, but in transforming the disciplines they work in.
The program offers engineers an opportunity to tailor their educations, with two in-demand tracks in thermal fluids science and in mechanics, dynamics and manufacturing. Online students also benefit from the full support of an R1 research institution and faculty advisement, ensuring their path of study will yield the highest benefit for their individual career goals.
Request Brochure
To learn more about Michigan State University's online master's programs in engineering and download a free brochure, fill out the fields below to request information. You can also call us toll-free at (888) 351-8360.
*
All Fields are Required. Your Privacy is Protected.
---