/
/
/
What Is Pavement Engineering?
What Is Pavement Engineering?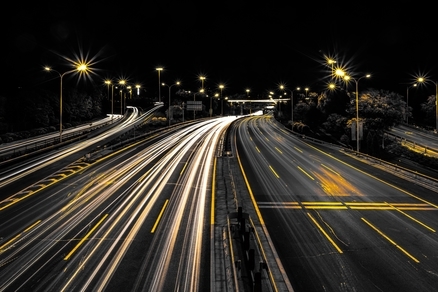 As roads and highways fall into disrepair, the widespread need for major infrastructure investments has become central to policy debates across the United States. There are urgent questions about how to rebuild our transportation systems so they are safe, durable and environmentally sustainable. Civil engineers who specialize in pavement design, preservation and rehabilitation will play a vital role in achieving those goals.
In a career as a pavement engineer, you can generate innovative solutions and make a lasting contribution in a new era of infrastructure development. By completing an M.S. in Civil Engineering program with a focus on pavement engineering, you'll learn to make strategic use of resources as you design efficient transportation infrastructure that fulfills the demands of a complex, busy world.
---
What Does a Pavement Engineer Do?
The roads we use every day are the result of careful planning and problem solving by specialists who understand the physical properties of soil, concrete and asphalt. A pavement engineering job description calls for professionals who can apply that expertise to ensure that roads withstand daily stresses. Surfaces must also be made of materials that provide enough friction to keep vehicles from skidding — even under rainy conditions — and minimize the noise created by contact with tires.
Pavement engineers decide what materials are best suited to the task and design the pavement cross section based on environmental and load stresses. There are two broad categories of pavements, (i) flexible pavements and (ii) rigid pavements.
A rigid pavement consists of a concrete slab constructed on an engineered foundation that consists of a base, subbase and subgrade. A rigid pavement is designed to handle environmental loads and axle loads. Jointed Concrete Pavements consist of evenly spaced contraction joints.
A flexible pavement consists of a hot mix asphalt layer constructed on an engineered foundation that consists of a base, subbase and roadbed. A flexible pavement is designed to carry axle and environmental loads.
Civil engineers who specialize in pavements are also responsible for maintaining these surfaces over time, rehabilitating areas that have seriously deteriorated and reimagining roads and highways to meet changing needs. For example, civil engineers working on any type of project must prioritize lowering carbon emissions and waste. One solution that could yield improvements in sustainability is to use aggregate and rubberized asphalt manufactured in part from recycled tires.
---
Pavement Engineering Skills
It takes advanced knowledge of materials and precise calculations to develop paved surfaces for multiple applications while supporting an environmentally friendly future. Students earning a master's in pavement engineering or a civil engineering degree focused on transportation and pavements prepare for these challenges by learning how to do the following:
Analyze asphalt and concrete pavement systems and networks
Rigid and flexible pavement design
Conduct project surveys and evaluations
Model the performance of materials
Test binders and hot mix asphalt
Design Superior Performing Asphalt Pavements (Superpave) mixes
Assess the costs of various approaches to pavement rehabilitation
---
Pursuing Innovation in Pavement Engineering Careers
The U.S. Bureau of Labor Statistics reported that civil engineers earned a median salary of $88,570 in 2020 and projected 8% growth in positions through 2030. According to an Lightcast analysis of job postings, cultivating skills in structural design and engineering calculations can lead to a salary premium.
This pavement engineering job outlook presents opportunities to build a career by addressing technical issues that are fundamental to the future of transportation infrastructure. Experts in this field continue to make important advances that will enable safer travel and address climate change. For example:
Michigan State University Professor M. Emin Kutay leads research on using sustainable materials and image analysis techniques for pavement engineering applications. These projects include building software to predict cracking in roads, testing the performance of crumb rubber-modified asphalt and establishing quality control methods for pavement preservation treatments.
Efforts at developing smart transportation infrastructure could result in more efficient and timely maintenance that costs less and lowers emissions. MSU civil engineers took an important step toward those outcomes by developing sensors capable of recording the stress and damage caused by passing vehicles. The ability to find even very small cracks in highways and bridges results in more proactive and less expensive maintenance.
A 2020 contest organized by the Federal Highway Administration (FHWA) and the American Society of Civil Engineers (ASCE) recognized two civil engineering PhD candidates at MSU for their research in long-term pavement performance analysis. Hamad Bin Muslim took first place in the graduate student category for presenting a method to estimate the structural capacity of pavements by accounting for the effects of temperature changes. Muhammad Munum Masud was also awarded for a paper that determined how sensors can obtain the most accurate weigh-in-motion data from trucks and the effects that overloaded vehicles have on pavement performance.
Skills in pavement engineering can equip you to participate in important projects that reshape our transportation infrastructure. MSU's online M.S. in Civil Engineering features focus areas in pavement and transportation engineering that allow students to engage with the most advanced insights from these fields. By learning from researchers who are making strides in this crucial area, you can discover innovative strategies to develop a new generation of roads and highways.
---
About Michigan State University's Online M.S. in Civil Engineering
Students in Michigan State University's online Master of Science in Civil Engineering develop the skills to design and maintain the next generation of infrastructure. This 100% online master's program explores data-driven strategies to design pavements and transportation systems for optimal safety, durability and sustainability.
As an R1 research university with its own vast transportation system on campus, MSU offers students exceptional access to industry resources and real-world data. Our faculty features top thinkers in transportation and pavement engineering who teach advanced quantitative methods and industry-standard software tools. Master's students create customized program plans so they can graduate with the skills they need to solve real problems and excel in their careers.
Request Brochure
To learn more about Michigan State University's online master's programs in engineering and download a free brochure, fill out the fields below to request information. You can also call us toll-free at (888) 351-8360.
*
All Fields are Required. Your Privacy is Protected.
---