/
/
/
What Can You Do with a Master's in Civil Engineering?
What Can You Do with a Master's in Civil Engineering?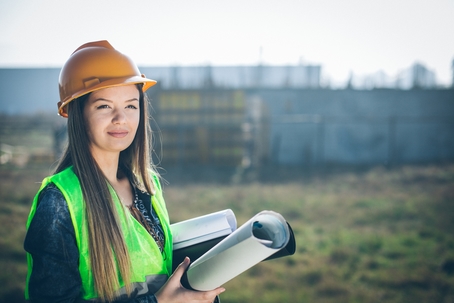 The future of transportation promises amazing possibilities, like highways equipped with integrated systems that warn connected and autonomous vehicles about hazardous conditions in real time. But realizing those possibilities as well as ensuring safer, more efficient and more sustainable transportation requires the contributions of experts in infrastructure design and development. Civil engineers meet the challenges of a rapidly changing world by applying their technical knowledge and problem-solving skills.
Professionals in civil engineering careers work on the vanguard of advances in technology and materials, leading vital infrastructure projects for the public and private sectors. In this article, we'll discuss what makes the role of a civil engineer invaluable to organizations and explore how you can start or advance a career with a master's in civil engineering.
---
What Does a Civil Engineer Do?
Civil engineers plan and design infrastructure and transportation systems, supervising construction, repairs and maintenance. According to the U.S. Department of Labor, some of the most common duties of a civil engineer are:
Determine specifications for an infrastructure project
Use computer-assisted design (CAD) tools
Select materials for a project based on data like load requirements, stress factors and water flow rate
Perform tests on materials and soils to ensure structural integrity
Manage construction and maintenance workers
Monitor projects for compliance with design specifications and safety requirements
Estimate budgets for materials, equipment and labor
Present reports on proposals and relevant concerns such as environmental impact
Meet standards for energy efficiency and environmental sustainability
Civil engineers are essential to many different types of building projects and can lead the development of infrastructure that will serve communities and businesses for decades to come. For example, Associate Professor M. Emin Kutay of Michigan State University's Department of Civil and Environmental Engineering led a team to create a powerful software tool that evaluates the durability of pavement. The program simulates the damage caused by trucks traveling along a road while accounting for factors like traffic, climate, and pavement thickness.
As a result, it's possible to project how much wear would occur over the course of 20 years in just a few minutes, guiding civil engineers toward better choices in pavement materials. Those decisions could keep roads usable and safe for a longer time.
Building infrastructure to last requires skills in both quantitative analysis and real-world application. Civil engineers must understand the traits of materials, how they interact with one another, and the effects of weather and climate. With software that models the impact of relevant variables, engineers can design essential infrastructure that stands up to years of use.
---
What Jobs Are Available With a Master's in Civil Engineering Degree?
Many civil engineers find their careers in designing specific types of infrastructure, working with particular materials or leading multidisciplinary teams. Specialized knowledge and capabilities can make an enormous difference in the positions available to civil engineers. Burning Glass reported that job listings seeking individuals with civil engineering skills also commonly requested capabilities in project management, budgeting, AutoCAD, scheduling and construction management. Expertise in traffic engineering or structural engineering is associated with higher salaries.
To reach your goals on a civil engineering career path you may also need to seek licensure as a professional engineer (PE). Becoming a PE qualifies an engineer to offer services to clients and to sign, seal and submit engineering work for official approval from a public authority. A license is also a prerequisite for certain government positions and for teaching in many states.
To qualify as a PE, you must:
Graduate with a four-year degree from an ABET-accredited engineering program
Pass the Fundamentals of Engineering (FE) exam to become an engineer intern
Gain four years of professional experience under a PE's supervision
Take the Principles and Practice of Engineering (PE) exam
The following civil engineering job descriptions show the range of specializations that are available to professionals with a master's in civil engineering:
Job Title
Essential Skills
Transportation Engineer

Plan transportation projects
Design facilities
Use CAD software

Pavement Engineer

Select pavement materials
Design pavements
Maintain and rehabilitate pavements

City Engineer

Use design software
Perform data analysis
Maintain budget

Design Engineer

Draw blueprints
Generate 3D models
Use CAD software

Inspection Team Leader

Use analysis software
Set plans and schedules
Enforce regulatory compliance

Project Engineer

Supervise teams
Maintain budget
Set schedules

Structural Engineer

Use design software
Perform analysis
Comply with regulations

Traffic Engineer

Design roads and highways
Solve problems in traffic operations
Manage risks
Transportation Engineer
This area of civil engineering encompasses the infrastructure planning and design for any form of transportation. Engineers use quantitative methods such as statistical analysis to identify the design requirements for roads, highways, airports, railways, bridges, ports and more. They may gather relevant data such as the population in the surrounding area, economic activity, travel patterns and financial resources to inform their recommendations. The transportation engineer ensures that construction, maintenance and rehabilitation projects are completed on schedule, on budget and in compliance with regulations and safety standards.
Pavement Engineer
Civil engineers who specialize in pavements must cultivate an extensive understanding of the properties of concrete and asphalt materials as well as soils. They design, maintain and rehabilitate surfaces for optimal performance and efficiency. Pavement engineers analyze a range of factors—such as climate and projected traffic—to decide on the composition and thickness of pavement layers, developing solutions that will stand up to wear and tear for years to come.
City Engineer
These civil engineers work for city governments to design projects such as roads and bridges and oversee their construction. City engineers should be skilled in using design software, performing data analysis, setting a budget and addressing environmental concerns. These professionals must be capable supervisors who lead surveying and building operations. City engineers also benefit from strong communication skills so they can clearly convey project requirements and updates to stakeholders with varying levels of technical knowledge.
Design Engineer
Design engineers may come from a variety of technical backgrounds, and their jobs focus on creating the blueprints and models that guide manufacturing or construction. For civil engineers, those responsibilities frequently call for employing CAD and other software tools to plan structures such as buildings, roads and bridges. Before a project moves forward, a design engineer may produce drawings as well as 3D models. At times, these positions also involve traveling to a worksite to check that the design is being executed correctly and make any adjustments.
Inspection Team Leader
Inspection teams evaluate bridges and other structures like culverts and retaining walls for compliance with all applicable regulations and policies. Using analysis and design software, these experts can assess needs for maintenance, updates or repairs. Team leaders are responsible for scheduling and planning the inspections. As technical experts with thorough knowledge of federal and professional standards, civil engineers in this position are prepared to collaborate with team members in the field and enforce safety requirements.
Project Engineer
These technical leaders keep engineering projects aligned with design specifications, on schedule and within budget. Project engineers are responsible for supervising staff members, from multiple disciplines as they collaborate to fulfill their organization's goals. Civil engineers in these roles are likely to focus on organizing tasks such as building design, site layout and laying foundations.
Structural Engineer
Structural engineers are experts in analysis and design for buildings, bridges, industrial sites and pipelines. Their duties include developing specifications and performing inspections to check stability and durability. Structural engineers must account factors like a planned structure's environmental impact and the safety of individuals who will work there.
Traffic Engineer
Traffic engineering is a transportation engineering specialty that's focused on making the flow of vehicles and pedestrians through streets and highways as safe and efficient as possible. Engineers consider the relationships among traffic speed, density and capacity as they modify roadways and manage risks. This role involves design decisions such as the placement of signs, traffic signals and pavement markings to reduce the likelihood of accidents.
---
Where Do Civil Engineers Work?
Infrastructure projects like facility construction or highway repairs can affect all types of businesses and many aspects of everyday life. Consequently, civil engineering professionals may find roles in a broad spectrum of organizations and work environments. Many engineers split their time between an office, where they draw up designs and plan projects, and the worksites where they track workers' progress, resolving any technical issues that may arise.
The U.S. Bureau of Labor Statistics reported that the civil engineers are employed in these industries:
Engineering services
State and local governments
Building construction companies
The federal government
According to the BLS, aging infrastructure will lead to the most significant civil engineering career opportunities for the next several years. Experts will be tasked with repairing and updating structures such as buildings, dams, bridges, levees and airports. Transportation and pavement engineers can build the foundation for the future of travel and logistics by applying their knowledge of quantitative analysis, CAD tools, safety practices and materials.
Michigan State University's online master's in civil engineering explores the concepts and practical skills that are necessary to excel in these roles. Completing a program with focus areas in transportation and pavement engineering can prepare students to meet the requirements for licensure as professional engineers as well as make a lasting difference in their communities and organizations.
---
About Michigan State University's Online M.S. in Civil Engineering
Students in Michigan State University's online Master of Science in Civil Engineering develop the skills to design and maintain the next generation of infrastructure. Designed to fit into the schedules of busy professionals, this 100% online master's program explores data-driven strategies to design pavements and transportation systems for optimal safety, durability and sustainability.
As an R1 research university with its own vast transportation system on campus, MSU offers students exceptional access to industry resources and real-world data. Our faculty features top thinkers in transportation and pavement engineering who teach advanced quantitative methods and industry-standard software tools. Master's students create customized program plans so they can graduate with the skills they need to solve real problems and excel in their careers.
Request Brochure
To learn more about Michigan State University's online master's programs in engineering and download a free brochure, fill out the fields below to request information. You can also call us toll-free at (888) 351-8360.
*
All Fields are Required. Your Privacy is Protected.
---