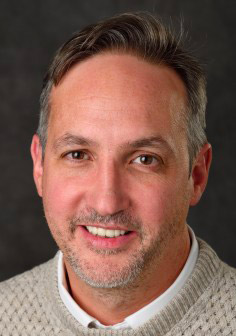 Associate Professor
benard@egr.msu.edu
(517) 432-1522
Education
Ph.D., Mechanical Engineering, University of Delaware 1996
M.Sc., Mechanical Engineering, Ecole Polytechnique de Montreal 1991
B.S., Mechanical Engineering, University of Sherbrooke 1988
Departments
Mechanical Engineering
Biography
André Bénard is an associate professor in the Department of Mechanical Engineering at Michigan State University.
Bénard's research interests include sustainable manufacturing and materials processing, multiphase flow and heat transfer (liquid/liquid and solid/liquid mixtures), and the design and modeling of new separation and processing equipment. He works on developing technology that improves the sustainability of modern society. This includes separation and treatment processes for compromised waters such as oil and water, improved sanitation systems, as well as technology for the identification, sorting, and reuse of products at their end of life (recycling and remanufacturing). All these are rooted in fundamental engineering analysis and computational models.
Recently, Bénard's research program has developed a focus on the identification, sorting, and remanufacturing of materials such as plastics, metals, and glass arising from products at their end-of-life. His group is interested in improving the separation of mixed plastics, their reuse in manufacturing systems such as in 3D printing, and the chemical recycling of plastics through benign processes such as hydrolysis (PET and PLA). Such approaches reduce the energy needed for manufacturing new products while mitigating their environmental impact.
He has taught numerous courses in multiphase flows, thermos-fluid sciences, and alternative energy systems. He is the founding advisor of SPARTA, a student organization focused on retrofitting MSU's campus buildings to reduce the energy demand on campus. Bénard earned a Master's degree in Mechanical Engineering from the École Polytechnique de Montréal and a PhD in Mechanical Engineering from the University of Delaware. He was also a postdoctoral researcher at Los Alamos National Laboratory.
Select Publications
Bandhyopadhay, D. and Benard, A. "Optimization of Solute Transfer in Porous Media Using Homogenization," Proceedings of the International Symposium on Inverse Problems, Design and Optimization (IPDO-2007) Miami Beach, Florida, U.S.A., April 16-18, 2007.
Koppula, K.S., Benard, A., and Petty, C.A., "Realizable Algebraic Reynolds Stress Model for Single Phase and Multiphase Turbulent Flows," Proceedings of the AICHE 2006 Annual Meeting, San Francisco, November 12-17, 2006.
Zheng, G., Wichman, I.S., and Benard, A. Energy Balance Analysis of Ignition Over a Melting Polymer Subjected to a High Radiation Heat Flux in a Channel Cross Flow," Fire Safety Journal, 38, 229-256, 2003.
Request Brochure
To learn more about Michigan State University's online master's programs in engineering and download a free brochure, fill out the fields below to request information. You can also call us toll-free at (888) 351-8360.