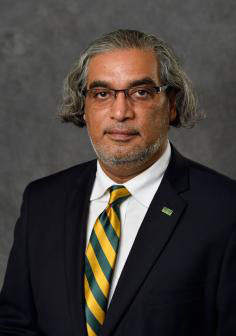 Associate Professor of Pavement Engineering
syedwaqa@egr.msu.edu
(517) 353-9782
Syed Waqar Haider has over 28 years of diverse professional, teaching and research experience in state-of-the-art methods and practical applications for pavements and materials engineering. His experience includes work on mechanistic-empirical pavement analysis and design performance models, performance-related specifications for pavement preservation treatments, pavement and bridge management systems, statistical data analysis for long-term pavement performance, guidelines for pavement recycling, and material characterization including reclaimed asphalt pavement, pavement evaluation and asset management systems.
Haider led several sponsored research studies at the international, national and state levels. The sponsoring agencies include the U.S. Department of Transportation, National Academy of Sciences, National Cooperative Highway Research Program (NCHRP), Federal Highway Administration and Michigan DOT. He has authored and co-authored more than 150 technical publications (42 peer-reviewed journal papers, more than 90 peer-reviewed conference proceedings and presentations and more than 25 reports). Nationally, he is active in the NCHRP, National Science Foundation, Transportation Research Board, American Society of Civil Engineers and International Journal of Pavement Engineering. He is a registered professional engineer in the state of Michigan.
Select Publications
Haider, S., Boz, I, Kumbargeri, Y. and Kutay, M. (2019). "Development of Performance-Related Specifications for Chip Seal Treatments." International Journal of Pavement Engineering.
Haider, S., Musunuru, G. and Chatti, K. (2019). "Impact of Lot and Sublot Sizes on IRI-based Percent within Limit." Journal of Infrastructure Asset Management.
Haider, S., Musunuru, G. and Buch, N. (2019). "Updating Traffic Inputs for Use in the Pavement-ME in Michigan." Journal of Transportation Research Record.
Haider, S., Musunuru, G., and Buch, N. (2019). "Local Re-Calibration of JPCP Performance Models and the Pavement-ME Implementation Challenges in Michigan." Journal of Transportation Engineering, Part B: Pavements.
Request Brochure
To learn more about Michigan State University's online master's programs in engineering and download a free brochure, fill out the fields below to request information. You can also call us toll-free at (888) 351-8360.