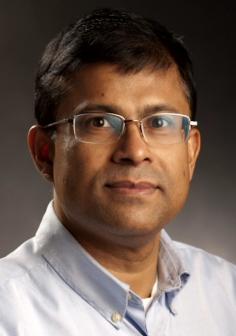 Professor
sbiswas6@egr.msu.edu
(517) 432-4614
Education
Ph.D., Computer Engineering, University of Cambridge 1994
M.S., Electrical Engineering, Jadavpur University 1989
B.S., Electrical Engineering, Jadavpur University 1987
Biography
Subir's research interests include the broad area of wireless data networking, low-power network protocols, vehicular networks, on-body networks and application-specific sensor networks. Research in Professor Biswas' NeEWS laboratory spans across a wide range of embedded system design issues including resource-constrained network systems, embedded operating systems, network middleware, mobile content delivery and application specific hardware and software subsystem design.
Select Publications
Plummer, M. Taghizadeh, and S. Biswas, Measurement Based Bandwidth Scavenging in Wireless Networks, In Press, To Appear, IEEE Transactions on Mobile Computing, 2011.
M. Quwaider, and S. Biswas, Disruption Tolerant Network Routing in Body Sensor Networks with Dynamic Postural Partitioning, Elsevier Ad Hoc Networks Journal, November, 2010.
M. Quwaider, J. Rao and S. Biswas, Power Assignment with Dynamic Link Quality Inference for On-Body Wireless Communication, ACM Transactions on Embedded Computing Systems (TECS), Special Issue on Wireless Health, August 2010.
T. Wu and S. Biswas, Routing with Off-network Control: A Novel Paradigm for Scalable Design in Very Large Sensor Networks, ACM/Springer Journal of Wireless Networks (WINET), July 2010.
Request Brochure
To learn more about Michigan State University's online master's programs in engineering and download a free brochure, fill out the fields below to request information. You can also call us toll-free at (888) 351-8360.