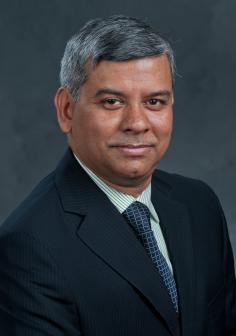 Koenig Endowed Chair Professor for Electrical and Computer Engineering; Affiliated faculty for Computer Science & Engineering and Mechanical Engineering
kdeb@msu.edu
kdeb@egr.msu.edu
(517) 432-2144
Education
Ph.D., Engineering Mechanics, University of Alabama, Tuscaloosa 1991
M.S., Engineering Mechanics, University of Alabama, Tuscaloosa 1989
B.Tech., Mechanical Engineering, Indian Institute of Technology, Kharagpur 1985
Biography
Computational optimization; optimal design; process optimization; optimal modeling and optimal system design; multi-objective optimization and multi-criterion decision analysis; large-scale optimization; evolutionary multi-objective optimization (EMO) for handling practicalities — uncertainties, constraints, multi-modalities, noise and mixed variables; meta-modeling in optimization; hybrid optimization algorithms using evolutionary and classical methods; evolutionary computation in search, optimization of control of engineering problems; multi-modal optimization; design of self-adaptive evolutionary algorithms; combinatorial optimization; computational intelligence; neural networks; fuzzy logic systems; machine learning; practical applications of optimization in science, engineering, finance and in multi-disciplinary domains.
Select Publications
Ahmed, F., Deb, K. and Jindal, A. (2013). Multi-Objective Optimization and Decision Making Approaches to Cricket Team Selection. Applied Soft Computing, 13(1), 402-414.
Srivastava, R. and Deb, K. (2013. An Evolutionary Based Bayesian Design Optimization Approach Under Incomplete Information. Engineering Optimization, 45(2), 151-165.
Deb, K., Ruiz, F., Tewari, R., Cabello, J. M., and Cejudo, J. M. (2012). On the Sizing of a Solar Thermal Electricity Plant for Multiple Objectives Using Evolutionary Optimization. Applied Soft Computing, 12(10), 3300-3311.
Deb, K. and Srivastava, S. (2012). A Genetic Algorithm Based Augmented Lagrangian Method for Constrained Optimization. Computational Optimization and Applications, 53(3), 869-902.
Request Brochure
To learn more about Michigan State University's online master's programs in engineering and download a free brochure, fill out the fields below to request information. You can also call us toll-free at (888) 351-8360.