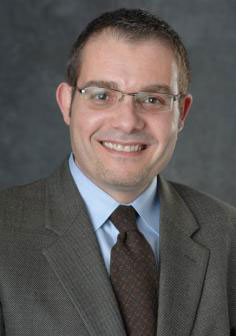 Professor of Pavement Engineering and Director of the University Transportation Center on Highway Pavement Preservation
chatti@egr.msu.edu
(517) 355-6534
Karim Chatti holds B.S. (1985) and M.S. (1987) degrees from MSU and a Ph.D. degree from the University of California at Berkeley (1992). He worked as an assistant research engineer at the Institute of Transportation Studies at UC-Berkeley prior to joining MSU in 1993 as a visiting assistant professor. He was a consultant overseas (1996-97) before rejoining MSU as a tenure-track faculty member in 1998.
Chatti was the director of the Michigan DOT Pavement Research Center of Excellence. He also served as acting associate dean for research in the College of Engineering in 2013-2014, civil engineering graduate program director in 2012 and civil and environmental engineering associate chairperson for graduate studies and research from 2005 to 2009.
Chatti is an internationally recognized expert in pavement engineering. His research focuses on mechanistic modeling of pavement systems, including pavement dynamics, vehicle-pavement interaction, backcalculation of pavement layer properties, surface roughness characterization and pavement continuous health monitoring. He has been involved in some 40 research projects, totaling about $15 million, funded by the Michigan and California Departments of Transportation, Federal Highway Administration, National Cooperative Highway Research Program, Strategic Highway Research Program 2 and USDOT. His publications include more than 170 peer-reviewed papers and 35 technical reports.
Select Publications
Balzarini, D., K. Chatti, I. Zaabar, Butt, A. and Harvey, J.T. (2019). "Mechanistic-Based Parametric Model For Predicting Rolling Resistance Of Concrete Pavements," in press publication, Journal of the Transportation Research Board.
Hasni, H., A. H. Alavi, P. Jiao, N. Lajnef, K. Chatti, K. Aonob and Chakrabartty, S. (2017). "A new approach for damage detection in asphalt concrete pavements using battery-free wireless sensors with non-constant injection rates," Measurement, Vol 110, pp. 217-229.
Coleri, E., J. Harvey, I. Zaabar, A. Louhghalam and Chatti, K. (2016). "Model Development, Field Section Characterization and Model Comparison for Excess Vehicle Fuel Use Due to Pavement Structural Response," Journal of the Transportation Research Board, TRR 2589, pp. 40-50.
Zaabar, I., Chatti, K., Lee, H.S., and Lajnef, N. (2014), "Backcalculation of Asphalt Concrete Modulus Master Curve from Field-Measured Falling Weight Deflectometer Data: Using a New Time Domain Viscoelastic Dynamic Solution and Genetic Algorithm", Journal of Transportation Research Board, Transportation Research Record No. 2457, pp. 80-92.
Request Brochure
To learn more about Michigan State University's online master's programs in engineering and download a free brochure, fill out the fields below to request information. You can also call us toll-free at (888) 351-8360.