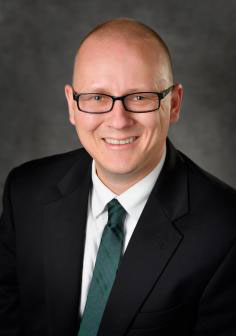 Foundation Professor of Transportation Engineering and Interim Chairperson of the Department of Civil and Environmental Engineering
pete@msu.edu
(517) 432-1825
Peter T. Savolainen has developed an internationally recognized research program in traffic operations and safety. His core research examines the fundamental nature of road user behavior, particularly how behavior is affected by roadway, traffic and environmental characteristics. His research has investigated the effects of roadway design, environmental factors and in-vehicle distractions on the risk of traffic crashes. To date, he has served as principal investigator or co-PI on more than $17 million worth of externally funded research through more than 75 competitive grant awards from agencies including the Federal Highway Administration, Strategic Highway Research Program 2, National Highway Traffic Safety Administration and various state DOTs. This research has led to the publication of more than 100 peer-reviewed articles.
Savolainen's expertise in the field of traffic safety is reflected by his service on the editorial boards of Accident Analysis and Prevention and Analytic Methods in Accident Research, as well as his membership in the Transportation Research Board (TRB) Committees on Traffic Safety Data, Analysis and Evaluation (ANB20) and Statistical Methods (ABJ80). The quality of his research has been reflected by four best paper awards from TRB Standing Committees, as well as recognition of two of his studies as High Value Research Projects by the American Association of State Highway and Transportation Officials Research Advisory Council.
Select Publications
Cyr, J., Shaw, J. and Savolainen, PT (2019). "Motor vehicle crashes involving railroad crossing signal masts and guardrails." Transportation Research Record.
Karaca, I., Chawla, H. and Savolainen, PT (2019). "Contrasting crash- and non-crash involved riders: An analysis of data from the motorcycle crash causation study." Transportation Research Record.
Wang, B., Hallmark, S., Savolainen, P. and Dong, J. (2018). "Examining vehicle operating speeds on rural two-lane curves using naturalistic driving data." Accident Analysis & Prevention, 118, 236-243.
Barrette, T., Warner, J., Thompson, P. and Savolainen, PT (2018). "Access separation at interchanges: Examining crash rates on the cross-street and in the transition areas from full to partial access control." Transportation Research Record.
Request Brochure
To learn more about Michigan State University's online master's programs in engineering and download a free brochure, fill out the fields below to request information. You can also call us toll-free at (888) 351-8360.