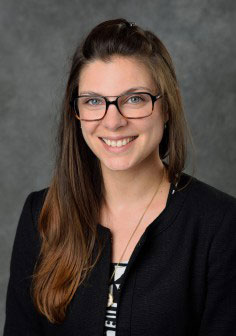 Assistant Professor
roccabis@egr.msu.edu
(517) 432-3185
Education
Ph.D., Engineering of Civil and Mechanical Structural Systems, University of Trento 2011
M.S., Civil Engineering University of Trento 2007
B.S., Civil Engineering, University of Trento 2004
Departments
Mechanical Engineering
Biography
Sara Roccabianca studies how continuum mechanics are applied to biomaterials. In particular, she is interested in skin mechanics and skin growth and remodeling (i.e. pregnancy, skin expansion for surgical repair and aging). She also studies non-linear solid mechanics with a specific focuson bifurcation theory and material instability.
Select Publications
Sorrentino TA, Fourman L, Ferruzzi J, Miller KS, Humphrey JD, Roccabianca S (2014) Local versus Global Mechanical Effects of Glycosaminoglycans in Carotid Arteries. Journal of Biomechanical Engineering (Submitted)
Roccabianca S., Bellini C, Humphrey JD (2013) Computational modelling suggests good, bad and ugly roles of glycosaminoglycans in arterial wall mechanics and mechanobiology. Journal of the Royal Society Interface. DOI: 10.1098/rsif.2014.0397
Bellini C, Ferruzzi J, Roccabianca S, Di Martino ES, Humphrey J (2013) A Microstructurally Motivated Model of Arterial Wall Mechanics with Mechanobiological Implications. Annals of Biomedical Engineering. (Epub ahead of print)
Roccabianca S, Ateshian GA, Humprey JD (2013) Biomechanical roles of medial pooling of glycosaminoglycans in thoracic aortic dissection. Biomechanics and Modeling in Mechanobiology. DOI: 10.1007/s10237-013-0482-3
Request Brochure
To learn more about Michigan State University's online master's programs in engineering and download a free brochure, fill out the fields below to request information. You can also call us toll-free at (888) 351-8360.