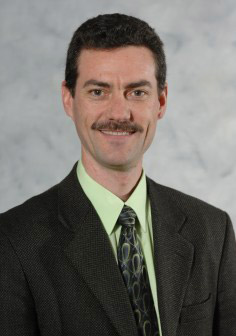 Professor and Associate Chair for Graduate Studies
hogant@egr.msu.edu
(517) 432-3176
Education
Ph.D., Electrical Engineering, Northwestern University 1996
M.S., Electrical Engineering, Northwestern University 1993
B.S., Electrical Engineering, Michigan Technological University 1988
Departments
Chemical Engineering and Materials Science
Electrical and Computer Engineering
Biography
Research focus is in electronic materials, including temperature dependent electrical conductivity, Seebeck coefficient, thermal conductivity, Hall effect, and current vs. voltage measurements for materials and devices. Areas of research have included single crystal diamond, thermoelectric materials, oxide nanowires, and surface enhanced Raman spectroscopy. Experimental techniques include pulsed laser deposition, laser micromachining, cleanroom procedures, solid state reactions, powder processing, spark plasma sintering, and high temperature high pressure pressing/annealing.
Select Publications
A. Kaur, P. Chahal, T. Hogan "Selective Fabrication of SiC/Si Diodes by Excimer Laser Under Ambient Conditions," IEEE Electron Device Letters, 37(2), pp. 142-145, (2016).
P. Gao, J. Davis, V. Poltavets, T. Hogan, "The p-type Mg2LixSi0.4Sn0.6 Thermoelectric Materials Synthesized by a B2O3 Encapsulation Method Using Li2CO3 as the Doping Agent," Journal of Meterials Chemistry C, 4(5), pp. 929-934, (2016).
N. Wachter, C. Munson, R. Jarosova, I. Berkun, T. Hogan, R. Rocha-Filho, G. Swain, "Structure, Electronic Properties, and Electrochemical Behavior of a Boron-Doped Diamond/Quartz Optically Transparent Electrode," ACS Applied Materials & Interfaces, 8(42), pp. 28325-28337, (2016).
P. Gao, X. Lu, I. Berkun, R. D. Schmidt, E. D. Case, T. P. Hogan, "Reduced Lattice Thermal Conductivity in Bi-Doped Mg2Si0.4Sn0.6," Applied Physics Letters, 105(20), pp. 202104-1 – 202104-5, (2014).
Request Brochure
To learn more about Michigan State University's online master's programs in engineering and download a free brochure, fill out the fields below to request information. You can also call us toll-free at (888) 351-8360.