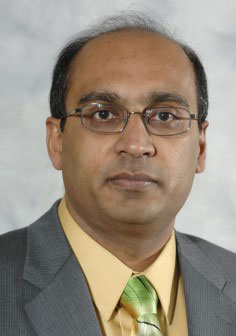 Professor, and Interim Chair of Mechanical Engineering Department
mukherji@egr.msu.edu
(517) 355-1834
Education
Ph.D., Mechanical Engineering, University of California, Santa Barbara 1991
M.S., Mechanical Engineering, University of California, Santa Barbara 1989
BTech., Mechanical Engineering, Indian Institute of Technology, Kharagpur 1987
Departments
Electrical and Computer Engineering
Mechanical Engineering
Biography
Ranjan Mukherjee received his bachelor's degree in mechanical engineering from the Indian Institute of Technology, Kharagpur, in 1987. He received his master's in science and doctorate degrees in mechanical engineering from the University of California, Santa Barbara, in 1989 and 1991. Prior to joining Michigan State University, he was an assistant professor at the US Naval Postgraduate School in Monterey, California, from 1991 to 1996.
Ranjan Mukherjee's research interests are in the broad area of mechatronics and robotics. He is a Fellow of the ASME.
Awards
Charles Stark Draper Innovative Practice Award – ASME Dynamic Systems and Control Division, 2014
Withrow Distinguished Scholar – Senior Award, MSU College of Engineering, 2011
Fulbright Research Scholarship, 2008
Fellow of the ASME, 2008
Withrow Teaching Excellence Award, MSU College of Engineering, 2007
Faculty/Staff Community Service-Learning Award, Michigan Campus Compact, 2006
Request Brochure
To learn more about Michigan State University's online master's programs in engineering and download a free brochure, fill out the fields below to request information. You can also call us toll-free at (888) 351-8360.