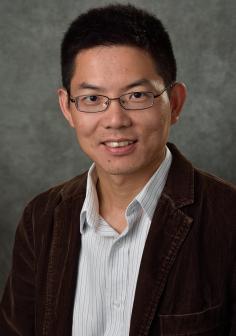 MSU Foundation Professor and Richard M. Hong Endowed Chair; Associate Chair for Research; Adjunct Professor Mechanical Engineering
xbtan@egr.msu.edu
(517) 432-4614
Education
Ph.D., Mechanical Engineering, University of California, Santa Barbara 2012
M.S., Mechanical Engineering, University of California, Santa Barbara 2011
B.E., Mechanical Engineering, Indian Institute of Technology, Bombay 2007
Biography
Electroactive polymer sensors and actuators, biomimetic robotic fish, mobile sensing in aquatic environments, control of autonomous robotic swarms, modeling and control of hysteresis, embedded control systems.
Select Publications
T. Pinto, L. Cai, C. Wang, and X. Tan, "CNT-based sensor arrays for local strain measurements in soft pneumatic bending actuators," International Journal of Intelligent Robotics and Applications, vol. 1, no. 2, pp. 157-166, 2017
S. B. Behbahani and X. Tan, "Design and modeling of flexible passive rowing joints for robotic fish pectoral fins," IEEE Transactions on Robotics, vol. 32, no. 5, pp. 1119-1132, 2016
J. Zhang, D. Torres, J. Ebel, N. Sepulveda, and X. Tan, "A composite hysteresis model in self-sensing feedback control of fully integrated VO2 microactuators," IEEE/ASME Transactions on Mechatronics, vol. 21, no. 5, pp. 2405-2417, 2016
F. Zhang, O. Ennasr, E. Litchman, and X. Tan, "Autonomous sampling of water columns using gliding robotic fish: Algorithms and harmful-algae-sampling experiments," IEEE Systems Journal, vol. 10, no. 3, pp. 1271-1281, 2016
Request Brochure
To learn more about Michigan State University's online master's programs in engineering and download a free brochure, fill out the fields below to request information. You can also call us toll-free at (888) 351-8360.