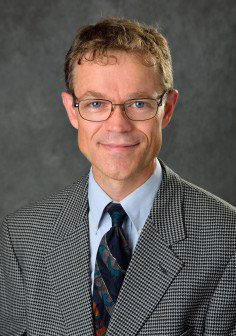 Associate Professor
dmorris@msu.edu
(517) 432-4427
Education
Ph.D., Robotics, Carnegie Mellon University, 2001.
BSE, Mechanical & Aerospace Engineering, Princeton University, 1994.
Departments
Electrical and Computer Engineering
Biography
Morris's research and teaching interests focus on 3D Computer Vision, multi-frame target tracking and pose estimation, LIDAR and range sensing, object detection and categorization.
Select Publications
S. Pang, D. Kent, X. Cai, D. Morris, H. Radha "3D Scan Registration Based Localization for Autonomous Vehicles – A Comparison of NDT and ICP under Realistic Conditions" In proc. IEEE Connected and Automated Vehicles Symposium (CAVS), Aug 2018.
D. Morris, "Obstacles and foliage discrimination using Lidar" in proc. SPIE 9837, Unmanned Systems Technology XVIII, 98370E (May 13, 2016); doi:10.1117/12.2224545.
M. Zhang, D. Morris, and R. Fu, "Ground Segmentation based on Loopy Belief Propagation of Sparse 3D Point Cloud", in Proc. of 3D Vision, pp. 615-622, Lyon, October 2015.
Request Brochure
To learn more about Michigan State University's online master's programs in engineering and download a free brochure, fill out the fields below to request information. You can also call us toll-free at (888) 351-8360.