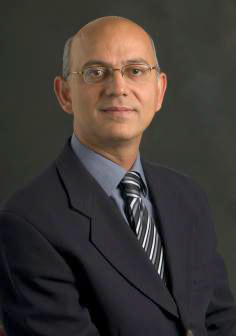 Professor
jaberi@egr.msu.edu
(517) 432-4678
Education
Ph.D., Mechanical Engineering, State University of New York (SUNY) at Buffalo 1996
M.S., Mechanical Engineering, Sharif University of Technology 1991
Departments
Mechanical Engineering
Biography
Jaberi's research and academic interests focus on thermal-fluid science and engineering, turbulence, mixing and reaction, large scale and high performance computations, statistical modeling, multiphase transport, propulsion, micro-scale transport and combustion.
Awards
National Science Foundation (NSF) CAREER Award
Select Publications
F.A. Jaberi, "Large Eddy Simulations of Two-Phase Turbulent Reacting Flows," Invited AIAA Review paper, January 2008.
Z. Li, and F.A. Jaberi, T. I-P. Shih, "A Hybrid Lagrangian-Eulerian Particle-Level Set Method for Numerical Simulations of Two-Fluid Turbulent Flows," International Journal for Numerical Methods in Fluids, in press, available online, 2007.
Request Brochure
To learn more about Michigan State University's online master's programs in engineering and download a free brochure, fill out the fields below to request information. You can also call us toll-free at (888) 351-8360.