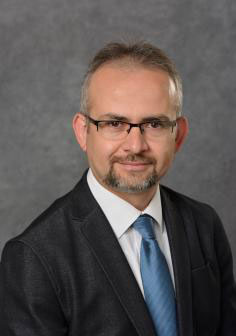 Professor of Pavement Engineering
kutay@egr.msu.edu
(517) 353-9297
M. Emin Kutay's background includes experimental and numerical investigation of the fundamental material behavior of asphalt pavements. Before he joined MSU, he worked as a researcher and laboratory manager at the Federal Highway Administration's (FHWA) Turner-Fairbank Highway Research Center (TFHRC). During the five years he spent at TFHRC, he was involved in numerous pavement-related research projects.
Kutay authored or co-authored more than 100 peer-reviewed journal papers, conference proceedings and technical reports. His research has been funded by agencies including the FHWA, U.S. Department of Transportation, National Science Foundation, Michigan Department of Environmental Quality, U.S. Department of Energy, Environmental Research and Education Foundation and Michigan DOT. Kutay's contributions to pavement engineering have been recognized with several awards including the Association of Asphalt Paving Technologists Walter J. Emmons Best Paper Award (2008), the American Society of Civil Engineers (ASCE) Arthur M. Wellington Prize (2009) and the ASCE Collingwood Prize (2008).
Select Publications
Kumbargeri, Y. S., Boz, I. and Kutay, M. E. (2019). "Investigating the effect of binder and aggregate application rates on performance of chip seals via digital image processing and sweep tests." Construction and Building Materials, 222, 213-221.
Haider, S. W., Boz, I., Kumbargeri, Y., Kutay, M. E. and Musunuru, G. (2019). "Development of Performance Related Specifications for Chip Seal Treatments." International Journal of Pavement Engineering.
Seitllari, A. and Kutay M. E., (2019). "Development of 3-Point Bending Beam Fatigue Test System and Implementation of Viscoelastic Continuum Damage (VECD) Theory." Journal of the Association of Asphalt Paving Technologists, Vol. 88.
Lanotte, M., Kutay, M. E., Haider, S. W. and Musunuru, G. K. (2019) "New Calibration Approach to Improve Pavement ME Thermal Cracking Prediction: Mixture-Specific Coefficients – The Michigan Case Study." Road Materials and Pavement Design.
Request Brochure
To learn more about Michigan State University's online master's programs in engineering and download a free brochure, fill out the fields below to request information. You can also call us toll-free at (888) 351-8360.